A lot of activity here the last couple of weeks, and some wonderful weather.
On Friday we had 12 men doing various jobs both in the Adega and the Quinta. The inside doors are being fitted in the Adega, and the plumbers have been working on the showers. In the Quinta the builders have been working in our kitchen, the plasterers have been in my bedroom and our lounge, and the plumbers have installed three baths.
We expect that the builders will start on the poolhouse next week. We are currently discussing exactly how the swimming pool will be finished.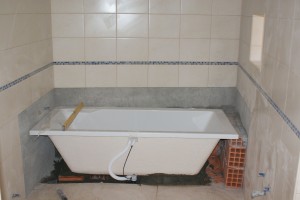 12 men working in Adega and Quinta