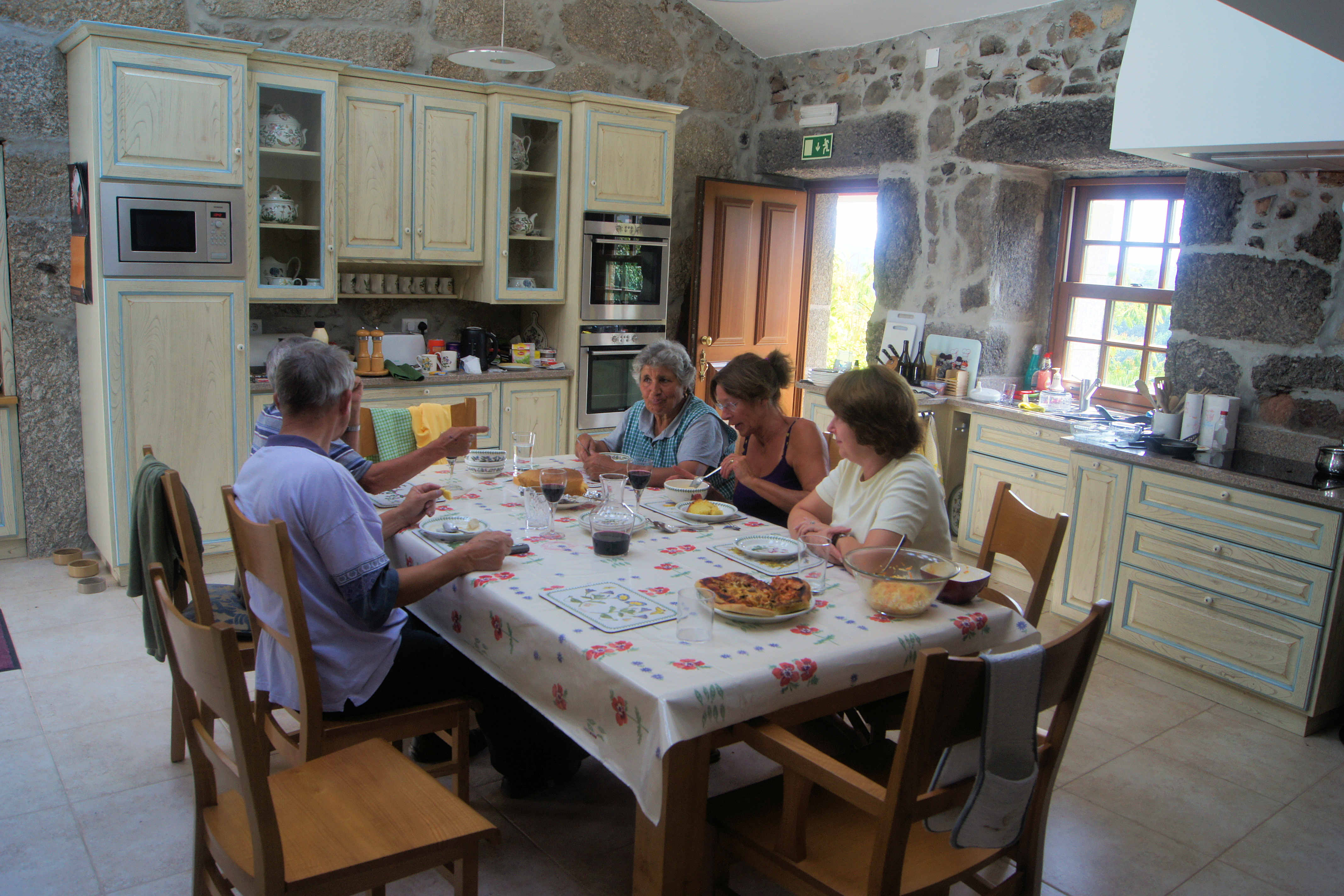 1. We stayed for a week in September at Quinta Sao Domingos.  Our hosts Tom and Lynn were amazing, nothing was too much trouble.  Our apartment was of the highest standard and we wanted for nothing.  The kitchen was the best equipped we had ever stayed in with such high quality crockery, cutlery and lien, even better than HPB!!!  We stayed in the two bedroom unit so that meant we had a lovely bathroom each which was also state of the art with wet rooms etc.  The beds were extremely comfy with beautifully laundered high quality bedlinen.  We even had a change of towels midweek.

The swimming pool was excellent with a  barbecue area including sink, fridge, crockery and table and chairs.  Their large garden was free to roam around and if there was any, pick the fruit.  We had broken the wing mirror on our hire car when we were in the Picos mountains and when we arrived, Tom immediately offered to take Graeme to a local garage to see if it could be fixed.  Sadly the Portuguese timescale for such repairs did not match with ours!!  Perhaps we should have stayed another week as our next weeks accommodation in Portugal was of the lowest standard (non HPB)!!  This is a great region to explore and Viseu, the local town is very interesting.

We cant recommend this location enough.
Yours Graeme and Judith Johnson
2. Our holiday was everything we expected and more. Situated in a very friendly rural village with spectacular and far reaching views over the surrounding countryside towards the mountains. The accommodation in a traditional Portuguese building was modern, clean and first class.

Tom & Lynn made us very welcome and were very helpful during our stay.

The wine making region in the Douro valley was amazing with the steep terraces of vines. Viseu with its Cathedral and huge traditional market is a fifteen minute drive away. You need a car but the roads are nearly traffic free. We will be back.
3. We stayed for a week while visiting my brother who lives nearby. The apartment was immaculate. The best thing was how well kitted out it was – beautiful crockery, every kitchen utensil you could ever require, coffee machine, hair dryer. Plus that is a pain to buy when you are on a short holiday – tea and coffe, dish-washer tablets, washing up liquid, olive oil, kitchen roll – so nice to just be there.

Very peaceful very remote, Lynn and Tom could not have been more accommodating. Would definitely recommend to anyone wanting to explore the paths less trodden in the northern part of Portugal. I'm sure we'll be back!
4. We have both enjoyed our stay and congratulate you on the accommodation. There is so much of interest in your own site, but the area around you also was fascinating.

Thank you for all your kindnesses to us.
5.'Thlop' fell the orange on the chicken's head, 'clat' dropped the walnut by the poolside. Gorse smelling as coconut. Fresh lemons and faded jasmine in the air. Our May holiday at Quinta Sao Domingos was less about doing and all about being,  About finding stillness, soaking up scents and tuning in to the natural sounds that fill the green countryside  around the beautifully restored Quinta, a Portuguese farm. Lynn and Tom the owner managers spent three years bringing life back to the ruined complex of stone buildings which was the principal quinta of Guimaraes village in the Beira Alta. We were their first HPB guests ever (which explained why there were no entries in the Holiday Hints book!) and we want to convey how we appreciated the holiday they offer. We had a good feeling about Quinta Sao Domingos before we set off, enhanced by a call from Judy Beytell at HPB Tenancies who had just returned from a visit and was full of it's beauty. We did not want a busy time.

We had never been to Portugal. The HPB description of  'not a region where tourism has been developed' could mean either there is not much of interest for the general holiday maker, or there are places to visit and things to do but they are not well promoted. We felt both were true in some sense, and both offer challenges. We found history and culture all around us, married to the land. If not populated by airy pine trees, every square inch is tilled, planted and constantly tended by villagers whose means of income and daily life has remained the same for generations. Under the vines and olive trees they grow onions, potatoes, lettuce, maize, beans and peas, some for home consumption and some for market. Morning and night we saw them pass our apartment, hoes over shoulders and bundles of produce hoisted on backs, as if in a drawing by Van Gogh. We went to churches packed when mass was being held and admired the facades of centuries old town houses in Viseu, the regional capital 10km away. We visited the high boulder-strewn Serra da Estrela, mountains of the stars, and the unique Busaco National Forest, part ancient woodland, part arboretum, yet we were most content enjoying the Quinta and its surroundings. We took gentle walks through the village and woods, verges jewelled with tiny spring flowers and wild barley. We counted over twenty different types in one short stretch where lizards and crickets seemed to play hide and seek.

Once when out with Tom, a local man emerged from the hedgerows and insisted we ate bunches of white cherries from his freshly picked haul. Lynn and Tom offer guests oranges, mandarins and lemons from their garden, eggs from their hens (when scrambled, the yellow of them dazzled us) and, keeping up a long tradition, deep red wine, grown on their vines and made with no additives at the Quinta. Good quality and attention to detail are standard with HPB, yet here for us, the furnishing of the apartments was second to none. We stayed in the spacious Adega do Branco (where next door they have preserved the ancient wine press) which is for two, but felt equipped for more. 'In case you have friends round' explained Lynn. 'Do you have all you want?' she asked us early on 'because we want everything to be perfect'. The large bedroom included soft linen, a sofa and a chaise longue. The kitchen provided Portmeirion Garden Cottage china in abundance, candles,napkins, washing up liquid, cling film, teabags and even a cheese grater from a range called 'The Pampered Chef'.

We ate at home, but our HPB neighbours in the second week said they had eaten a delicious meal in Viseu near the cathedral. Evidently three course lunches at 5 to 7 euros are readily available and excellent value. We enjoyed the mosaic turquoise pool every day, again well provided for with loungers, toilet, shower and a barbecue with seating area. We took shade from the walnut tree next to the young oleander. We swam with the butterfly and swallow who came to drink  and past the mauve pink jacaranda petals fallen on the water . Woodsmoke drifted across from the fields mingling with roses and citrus. Portuguese voices floated over the wall as the villagers tended their plots, and competing with the tinkling chimes of the long case clock. Polly, Lynn and Tom's parrot, chatted from her vantage point on the verandah. Two pomegranate trees have been planted for her as she is partial to the fruit.

Tipsy the cat from Somerset tries to catch insects. Oranges, lemons, grapefruit, vines, figs, chestnuts and olives grow across the terraced garden. Nearer the house past a bower heavy with apricot roses, grow passion fruit, Indian bean trees, limes, a Cyprus and a vine which Lynn and Tom rescued from ancient stock during the building work. It now climbs the stone wall and is edging its way along the delicate wrought iron railing. Most mornings the three foot thick walls and wooden shutters on the windows ensured that we slept well past our usual hour. One morning though we woke early to the sound of grey thunder and watched a lightning storm over the mountains. Eventually, the rain reached the Quinta. Most days were a mix of  cloud and hot sun.

The vitality of water was evident around us in the lushness of the vegetation, the communal tap at the gates of the Quinta from which villagers fill flagons in preference to using the mains, and the splash of running water in the courtyard from the regular diversion of a stream to fields below as part of the village irrigation system. The Quinta has its own bore hole which Lynn and Tom have fitted with a UVA  filter to ensure the purity of their water. Sometimes just the right holiday comes along at just the right time and Quinta Sao Domingos was such a holiday for us.  Getting to know our hosts over the course of the two weeks and their friends Fiona and Rob was delightful. The two couples met in Viseu. They moved from the U.K. to make their homes in this part of  Portugal and both introduced us to its simple pleasures. Friendliness and peace  were the markers of our visit and would be there for anyone who chooses the Quinta.
6. Our first visit to Quinta Sao Domingos, Portugal was a delight, beginning with a charming Portuguese lady sitting next to us on the plane. We flew TAP, be warned that their meal included is only a roll each and cake .This came with wine, juices, water, tea and coffee. The journey following HPB instructions was straight forward and once we had left Oporto the scenery was lovely, travelling through forests, and rolling hills with glimpses of little villages between the trees.The motorway was very quiet, unlike England, but beware when you are doing the speed limit in the slow lane, the Portuguese drive fast and are constantly overtaking. Beware in the villages and towns as the population has a suicide mission. People tend to step out onto crossings without looking and will pull out across your path in cars. If you have the confidence as a pedestrian it seems that you have right of way. In our case when on foot, it helps to shadow a confident local!

On arrival we were greeted warmly by Tom & Lynn our hosts and treated to a welcome cup of tea on their balcony overlooking their pretty lush garden. Our spacious apartment had everything you could desire, very well appointed with top quality furnishings. We even had a small private terrace with comfy adjustable chairs, table and parasol. This overlooked an inner courtyard and was accessed via steps down from the car park or from the bedroom, which was advised against being used, as the door aperture was low, in case of accidents. There was a large car park with flower borders so there wasn't a problem parking the hired car. Tom and Lynn are a friendly couple who cannot do enough for your comfort. After we had taken our luggage into the apartment Tom kindly offered to accompany us to the nearest supermarket so we could stock up on some immediate essentials. They make their own wine and we were treated to two bottles on arrival, which was very welcome with our evening meal. Later on, in the holiday we were given a tour round the adega which was beneath our apartment, and still retains some of the original equipment. Originally all the village would bring their grapes to be crushed there, to make wine. This doesn't happen now as they are sent to a co-operative.

When we had settled in we went for a look around Tom and Lynn's garden which boasts an orchard, hen house and many flowers. The hens and the cockerel roam about the gardens, but didn't bother with us! We were invited to help ourselves to fruit and herbs, and there was a good choice there even though the grapes and apples  weren't ready. We sampled oranges, tangerines, peaches, plums and figs. For barbeque fans there is a well equipped little terrace which holds a sink, dishwasher fridge, table and chairs, toilet and shower, This is in the shade overlooking a  lovely swimming pool with terrace surrounding it. There are comfortable adjustable sun beds, foam mattresses provided and large luxury beach towels at no extra charge. The views to the hills beyond were superb and the whole area makes a good venue to bring along pencils/paints and camera, but not children due to many steps and steep drops around the site.

Our apartment was on two floors and very spacious. We found the bedroom downstairs was nice and cool at night despite the daytime temperatures whilst we were there, which ranged  between 24 and 37 degrees .Oh yes, there was a hairdryer & small safe too!  The kitchen could get warm when cooking but there are plenty of windows to bring a draught of air and also a massive cooker hood which soon sorted the problem. As we were eating in the 3 drawer freezer was also a very useful accessory.

In the immediate area was a small supermarket and the baker arrived in his van each morning-honking his horn when he arrived. The walks through the village and the views around were stunning. Wherever we went, everyone was friendly and waved or smiled and said hello. Although we only knew a little Portuguese we had a good try with the help of a phrase book and small dictionary and got round fine. We visited several Tourist Offices where the personnel spoke English or if you asked anyone if they spoke English they were helpful.

The nearest town is Viseu which has several large supermarkets with an enormous variety of goods including well stocked fresh fish and shellfish counters.  When using supermarkets, we were advised by Tom , take queuing tickets even if there isn't a queue. Entering Viseu is confusing at first as there are about 12 islands encircling it on a ring road., but you soon sort it out. Viseu has tourist walks( map from the Tourist Office )a Se(Cathedral) many Churches, museums, Roman remains, parks and markets. Even if it is hot, the centre is very shady as everywhere you go there are trees. The Rossio or meeting place with many seats in the shade has azulejos tiles depicting country life and holds markets. There was a good craft market on when we were there.

There's such a variety of things to see and do in Portugal and we didn't even see a fraction of them!!  Near Oporto we were the sole visitors in a Fairytale Castle with turrets. The staff were so helpful and asked if we would like to see an English video of the castles history which we did and it was very interesting. There was also a lovely chapel with gorgeous panels attached to the castle. Below was an enormous park and another museum and striking looking church which unfortunately we didn't have time to see.

The Carramula mountains are worth visiting and especially their museum in the middle of nowhere, which has a good collection of furniture, glass, toys and religious objects, and best of all vintage cars and motorbikes in superb condition. We nearly missed the next door exhibition (in the new building next to museum) which held two floors of cars and motor bikes, but the staff chased us to tell us it was included. The costs of admission for attractions were between 2 and 7 euros and the Cathedrals and churches are free. Most places of interest are open 9.30 to 12 and then 2-5.30  and there is a reduction in many places for persons over 65 years of age.

Aveiro, originally a seaport dating back to 959 AD  holds the fabulous museum, the Museu de Santa.Joana,which was formerly an 18c convent and is found across the road at the side of the Cathedral (Se)  Princess Joanna daughter of King Alfonsa V and she  lived in the Convent called the' Mosteiro de Jesus' until she died in 1490. She was purported to have performed miracles and proclaimed a Saint after she died. The Convent has been restored and an unbelievable masterpiece of baroque art with guilded carvings and fabulous ceilings, some with paintings.

Downstairs, her tomb is a supposed to be the very best example of multicoloured inlaid marble mosaic work and has angels at each corner. The altar is awesome and extravagant covered in gold with a gothic ceiling. The refectory is all done in azulejos the Portuguese tiles that it is famous for. The upstairs of the museum consists of religious artefacts and admission is only 4 euros (or 2 euros over 65)

After visiting this spectacular Museum the Se is a disappointment!  If you walk along the Canal nearby it you will find the old seaweed collecting boats called moliceiros-rather like gondolas which ferry tourists up and down between a very modern shopping centre and a pottery factory that looks like a Lancashire Mill.The town itself is Art Noveau style and somewhat uninteresting when you arrive. It has many cube shaped buildings including a hotel on the canal. Aveiro can be explored free by bikes which are called 'BUGA' and you put in 1euro coin to unlock them and then return them anywhere at another 'BUGA'

Nearby Costa Nova has lovely candy striped houses in different colours and you cross lagoons, dunes, beaches and bridges to get there.

The Sierra de Estrella at 1056m or 3465 ft  is a' natural park' and has stunning views and the drive is well worth the long trip It holds a deep glacial valley which reminded us of the Norweigan Fjords.There are many large boulders left from the last ice age!

Belmonte is the only Jewish town in Portugal and it has a castle housing the tourist office and if you go into the castle  ruins they have been converted to an amphitheatre which is a bit of a surprise. The town itself has 6 museums and you get a better deal,if you have the time, to buy an all inclusive ticket. We are told if you want to visit the Synagogue you must visit the Jewish Museum first. The museums are varied and include an ecological museum. The streets are pretty and hold the original laundry areas outside some of the houses.

We then visited Guarda, the highest town in Portugal and enjoyed it's panoramic views from the ruin of a castle above the Gothic Cathedral. The Cathedral square led to the narrow streets of the medieval city with shops and to yet another Church and Museum. We looked in one shop which was a haberdashery and it was like going back in time to see it and was similar to 1940/50s era the way the articles were displayed and the shop fittings. One shop displayed copper items and stills outside. There is a square in front of the Cathedral with a columned walkway under the shops similar to York.

Wherever you decide to go in this area of central Portugal we are sure you will find it interesting. The local people around Quinto Sao Domingos are friendly as were people in supermarkets, villages, attractions and information offices. This rural area is unspoilt by tourism, quiet and beautiful, ideal for exploring, perfect for sight seeing, walkers ,painters, wine buffs and above all the perfect place to unwind and relax..

So do yourselves a favour and don't miss this 'pearl' of a place to stay…..
Derek & Pat Holmes.