The weather has been somewhat cooler for the last few days, with a small amount of rain yesterday.
The builders have not been on site for nearly two weeks, but the plasterers have now finished for the time being. After a false start the carpenters have been back today to install the panelling on the first floor balcony of the Quinta. The tiler has been here now for some time and has finished the ground floor of the Adega together with the two bedroom apartment.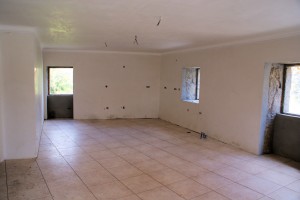 The lounge/kitchen of Adega Tinta, looking across towards the kitchen.
Plasterers & tilers finish for now